Life Lately
Happy November - it's basically Christmas time (with a two-day Thanksgiving break) and I couldn't be more thrilled. I haven't been around the blog as much lately, mostly because I've had my head in a toilet for the last 8 weeks. However, I think I'm finally crossing over. And yes, if you haven't heard, baby number 5 is on the way!!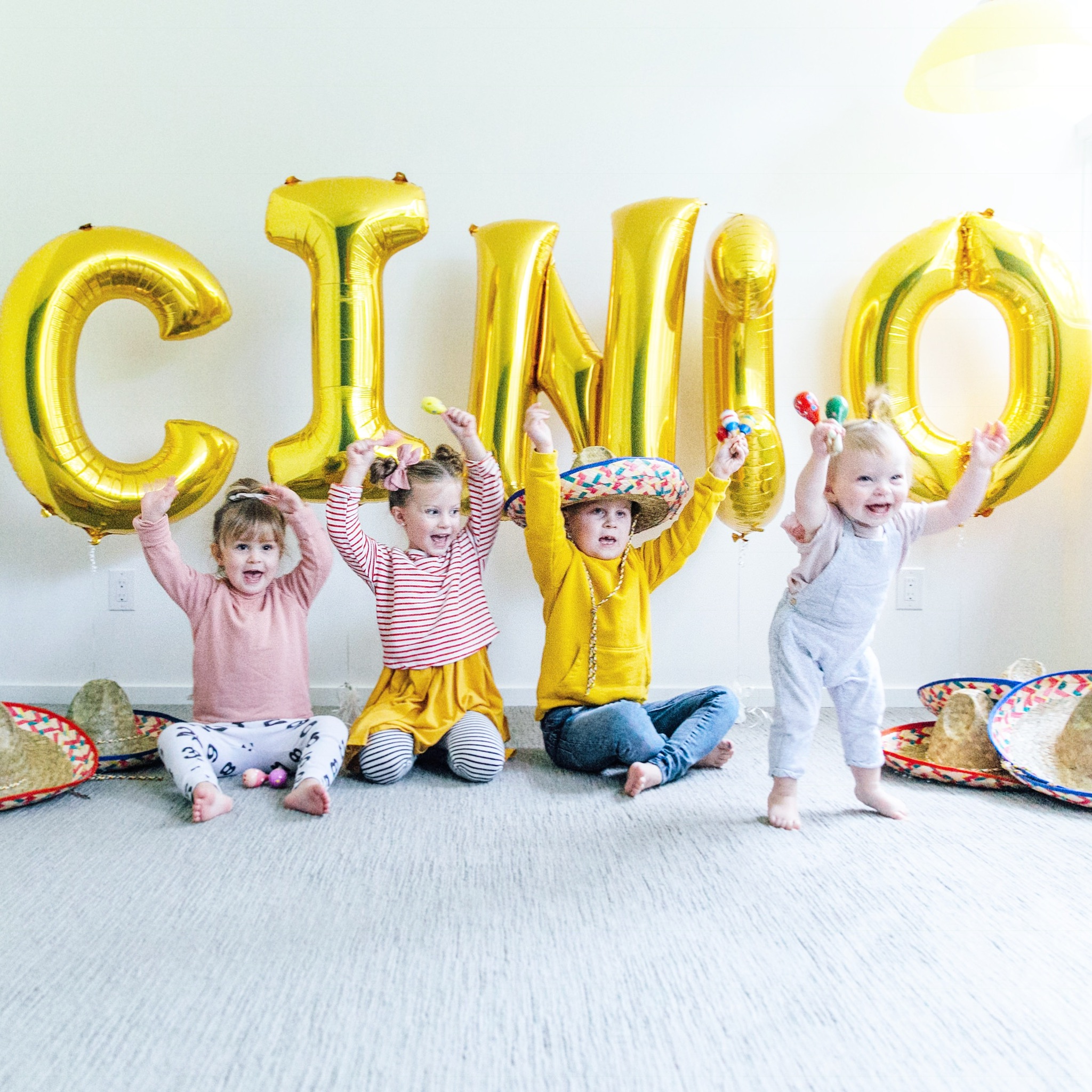 WHAT WE'RE EATING:
A whole lot of saltines, buttered popcorn, thai food, peanut butter toast and chick-fil-a. I have craved ALL the salty things this pregnancy and anything sweet almost sends me over the edge. Pregnancies are just so weird! We did make our famous caramel apples just before Halloween - always a crowd pleaser!
WHAT I'M REMINISCING ABOUT:
I don't even think I've sat down and reminisced about anything lately, however, with the holidays coming, I'm sure TimeHop will run me over like a mack truck. These babies are growing SO dang fast and I'm sort of feeling like someone has turned the clocks on super speed!!
WHAT I'M LOVING:
The ages of the kids right now! We've got 6, 4 (and a half - v v important), almost 3, and 15 months. They play really well together most of the time, are hilarious and quip back just enough to make it charming and dote on Norah like she's their very own.
WHAT WE'VE BEEN UP TO:
We've had the BEST fall - soaking up all sorts of festivities in our new town (the parade was a total hit) and have even made the trek to Pullman for the BEST day ever. You guys, seriously, Game Day came to Pullman, we won a BIG game and aside from my wedding and births of my children, it was my favorite day EVER.
WHAT I'M DREADING:
RAIN. This time of year comes with a ton of excitement, but also a TON of rain. And if you've never unloaded 4 kids in the pouring rain, you've been granted a little bit of love. We're on the hunt for all the indoor activities - we just found a SUPER fun place that we love - you guys have to check out ROMP. Gorgeous space, tons for the kids to do and so low-key. Definitely will be back!
WHAT I'M WORKING ON:
Well, lots of oily goodies for the Holidays (if you guys don't follow along with our oils obsession, follow over at @thismagicmama - it's really the best ever. I've also been working on a few holiday things for HEN & CO. and just trying to soak up all that is coming!
WHAT I'M EXCITED ABOUT:
Christmas and Thanksgiving, of course. I turn 30 in December so that's pretty fun! And of course, the new babe! The kids talk constantly about their new baby and even though it all still feels pretty surreal, we're getting excited!
WHAT I'M WATCHING/READING:
Zero. Zilch. Nada. You guys know this by now. Bachelor/ette isn't on so I'm out.
WHAT I'M LISTENING TO:
John Legend Christmas and lots of Tracy Chapman in the afternoons while we make dinner. It's like therapy somehow?
WHAT I'M WEARING:
Align pants from LULU pretty consistently. This sweater has also saved me many-a-days (my other favorite!), and I have surprisingly been able to rock these high-waisted numbers even though my belly is really starting to show!
WHAT I'M LOOKING FORWARD TO NEXT MONTH:
Well, do I even need to state the obvious?! Christmas, baking, santa, gifts, parties, christmas lights, christmas movies and anything else that starts with Christmas.
WHAT ELSE IS NEW:
If you guys haven't checked out all the things Collin has been up to, pay his instagram a visit. I promise you'll be inspired!