Life Lately
Happy Friday! It's was the first week where Collin traveled since Norah was born (back to reality) and it actually went fairly well! We started the week off under the weather (who gets a virus in the summer?!) but ended it pretty strong. We did Target, the grocery store, a couple playdates, a walk to starbucks and I even got a brow wax. So pretty much I'm a new human. Target was a bit of a shit show, B&B had the giggles which progressed to complete chaos, and Winnie ate too many plums which led to another type of shit show. It's fine. Totally fine... Moving along.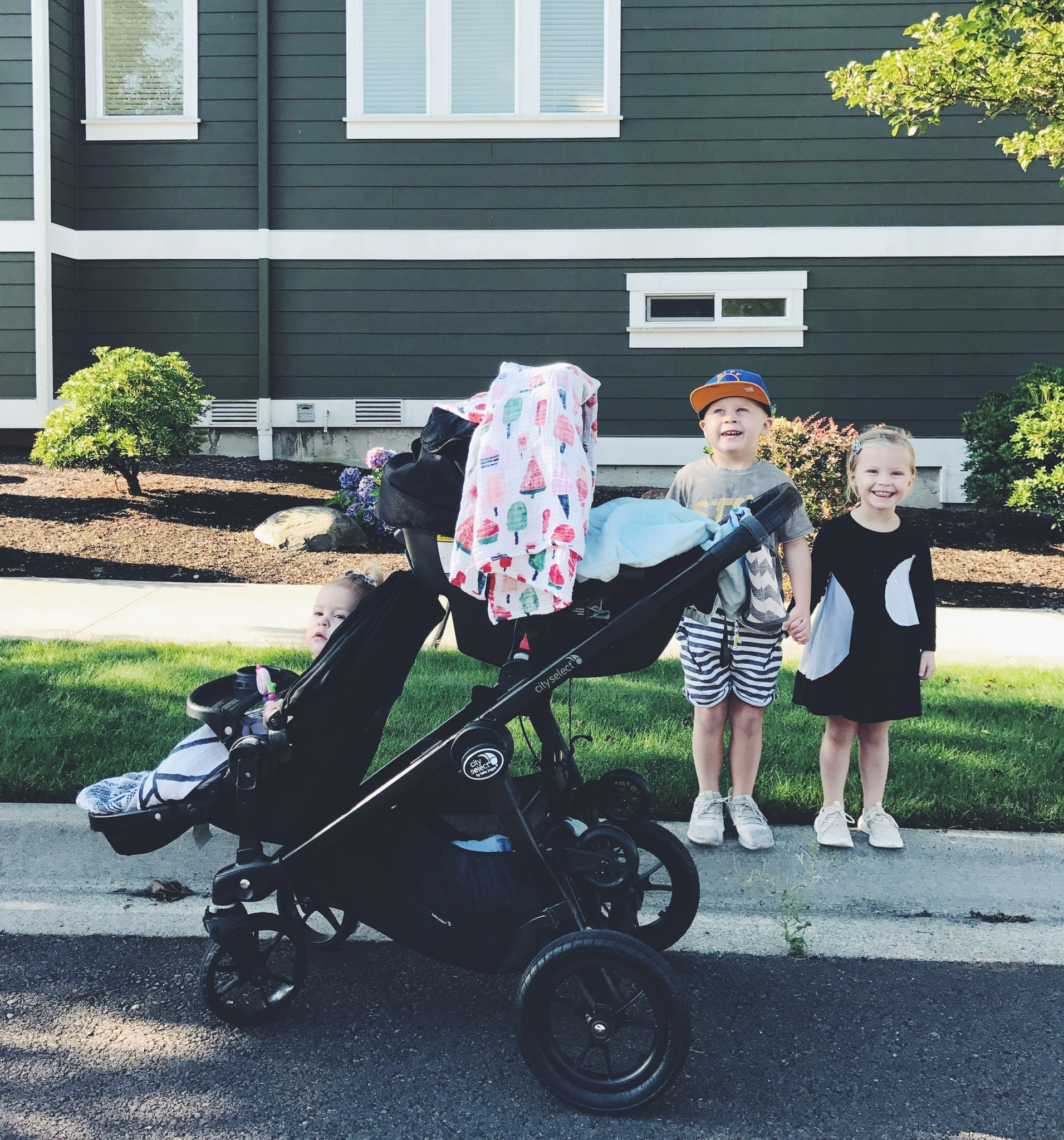 WHAT WE'RE EATING:
Still grilling everything until the rain returns! And let's be honest, takeout. I shared this "recipe" on instagram last week - so if you want the best corn ever, go check it out.
WHAT I'M REMINISCING ABOUT: Life before kids! Collin and I just had our seven year wedding anniversary and it was so fun to look back at photos with the kids ... seems like a different life! Collin and I talk about life before kids often, wondering what we used to do with all of our time. Maybe eat a full meal? Or vacation without 7 life jackets and 12 suitcases. ;)
WHAT I'M LOVING:
Being a mama of 4!! The best part has been watching the kids together (there's a lot of smothering) - they love Norah, they love having each other and it's really balanced us out!
WHAT WE'VE BEEN UP TO:
We're really just relishing in the lack of schedule, routine and plans around here. Both big kids start school in a few weeks and I'm seizing every opportunity for pajama days and sloooow mornings. Baylor loves to stay home and Winnie is always asking to go somewhere... her favorite line: "come wif you!?"
WHAT I'M DREADING:
SCHOOL! I'm going to miss the kids SO much ... I can't even imagine if I had to send Baylor to Kindergarten this year. I've never been away from Bella so I'm prepared for some serious tears (on my end, not hers...)
WHAT I'M WORKING ON:
Football season is right around the corner and that means the shop is SO busy with tons of orders, lots of new inventory and all the festive things. Also working on perfecting my chili recipe, because, PRIORITIES. This is our go-to.
WHAT I'M EXCITED ABOUT:
While I'm far less excited this year about fall, I still can't contain it. Here's the deal - I am usually all "pumpkin spice for life - bring on the cold", but this year I'm like "long live summer - 4 kids inside for 6 months might kill me" The kids have started planning costumes and I'm trying to convince them that they're not bored with the pool ;)
WHAT I'M WATCHING/READING:
Bachelor in Paradise, because quality TV only comes on every so often ;) I actually just started reading the new Donald Miller book - Scary Close. So far, its really good. His book Blue Like Jazz is my all-time favorite book and totally changed my life.

WHAT I'M LISTENING TO:
We've been listening to lots of Podcasts (Brene Brown & Lewis Howes) and also the new Macklemore single - the video is SO fun!
WHAT I'M WEARING:
All the things I loathe. Let's be honest, postpartum dressing is the worst. While I don't hate my body, I do hate what I'm wearing. Nothing fits right, nothing feels comfortable, and everything ends up covered in milk. And I'm in the camp that refuses to buy clothes that only fit while I'm losing my pregnancy weight - because I'm stubborn as hell I suppose.
WHAT I'M LOOKING FORWARD TO NEXT MONTH:
THE WA STATE FAIR! I used to think the fair was totally lame (although I still stand by the fact that it's the armpit of America - though now that I type that, I'm wondering if Washington DC is in fact the armpit at this point, or at least it's close relative). but since having kids the fair is my favorite. It's only open for a few weeks in the fall, the weather is almost always gorgeous, and we go early in the day when the riff/raff is still asleep. There's so much for the kids to see & do and I live for the baby pigs and the scones.
WHAT ELSE IS NEW:
Collin is launching his book on September 15 and we couldn't be MORE excited! Check out his instagram for more sneak peeks! (@collinhenderson)
Have a great weekend! We're doing a little brunch with some family and just hanging at home - bliss!