My Top 5 Tips to Create a (fun!) Gender Neutral Nursery
We are days away from meeting baby #4 and for the third time, we haven't found out gender. Baylor & Bella's nurseries were both gender neutral and it's safe to say I've learned a thing or two about putting together neutral nurseries over the years (how many times can I say "neutral" in this post?)
It's so tempting to know gender, and for some people, it's really a non-negotiable. We are not Type-A people by nature, and the thought of one big surprise on delivery day was too enticing to pass up - which is why we chose to wait with 3 out of the 4 kids. There's total pros to both sides, and having experienced both, I can understand why people would want to find out. All that being said, we prefer the surprise over finding out, which is why we chose to do it for our 4th (and most likely final) babe!
So, if you're in the same boat and working on a gender neutral (ding!) nursery for the 1st or 4th time, here's my top 5 tips to keep things exciting in the nursery and to not get too wrapped up in the adorable themes that Land of Nod or RH Baby has to offer.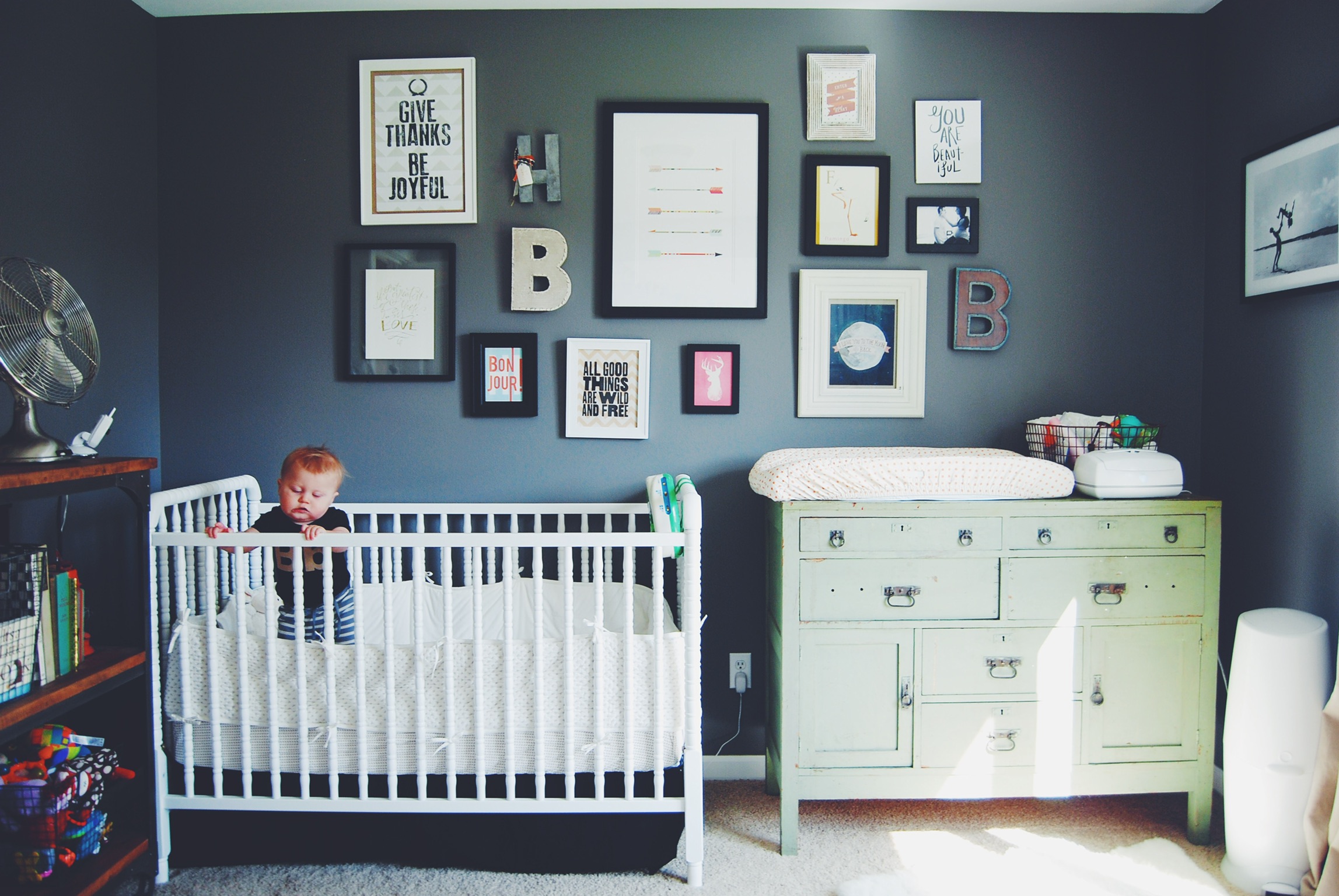 1. Don't shy away from color! Just because you can't dive head first into a traditional color pallet like pink or blue doesn't mean you can't keep things colorful. So many neutral nurseries end up being just that - neutral. They're gray or tan and white and feel all kinds of drab. If you hate color, then do you, but I love color too much to keep things colorless. If you want to add color to a neutral nursery, go big. Lots of colors work best, as they tend to keep your eye busy and keep the room playful and young - instead of boy or girl. Think playroom colors instead of nursery colors.
2. Keep your main pieces neutral. You're going to have a hard time making a room look neutral with a very ornate, girly crib or artwork that is all masculine. If you have a simple crib, dresser, and chair, then the accents will bring life to otherwise boring pieces. This crib is our go-to and has been used with both Baylor & the girls.
3. Pink and blue are not off limits! And yellow and gray is not your only option :) Don't shy away from these colors just because of their stereotypes. Mix them together, add a little green and black and you're instantly ready for either gender to cozy up!
4. Reserve some decisions: I typically don't go crazy buying stuffed animals or lots of accent pillows for the nursery until the baby is born and we know gender. This way, you can steer the room one way or the other once you know. Plus, all those hours nursing give you plenty of time to browse for the best items.
5. Think like an adult. I often times find that "adult" furniture is a much better fit in a neutral nursery than furniture that is meant for babes (and tends to be very specific). We've found antique dressers bring life into the room and can be moved around the house once the baby has outgrown their space. Buy artwork that you'd want hung in your living room or bedroom, and rugs that are sophisticated and the space will immediately be elevated.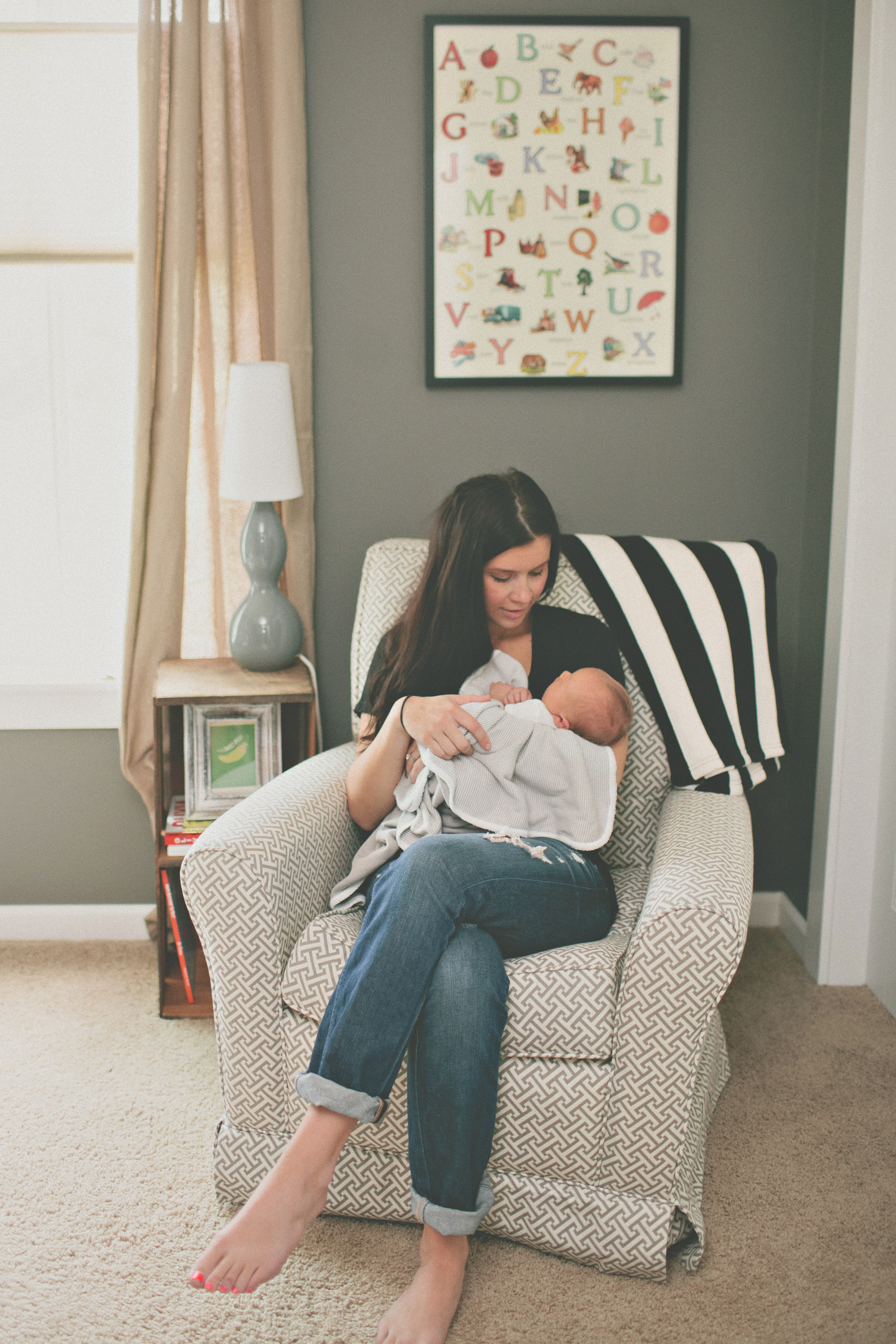 I can't wait to share more of the nursery once the baby arrives, but until then, I'll just be waddling around here getting all the things ready!