The Playroom Reveal!
Happy Friday! We're headed to the pool (but first the dr. to check in on this baby!) in this beautiful 80 degree sunshine and I fully intend on tanning this watermelon while consuming watermelon on a watermelon pool float. Too far? K good.
I wanted to share our playroom with you today! We finally finished decorating and everyone feels pretty thrilled about the whole thing (ok, mostly me - the kids are all "whatev mom") We play in here daily, wind down in here before bed, and it's where all the toys get hidden, with the exception of a couple baskets downstairs. My goal in this room was lots of storage, lots of bright colors and of course, all the things to keep everyone entertained (although the box that our new mattress came in seemed to do a damn good job for longer than I'd like to admit).
Land of Nod so graciously sent some major goodies our way, which we were super excited about! This toy box holds SO many toys, but my favorite part about it is the slow close so no little fingers get smashed! I installed these picture ledges from IKEA and when Winnie's not swiping them off in one steady movement, they work great. ;) Baylor's truck collection is totally out of hand and I'm working on some shelves for his bedroom to get those big ones off the floor.
This Ice cream Truck was a little gift that Santa brought last Christmas and let me tell you - BEST toy ever. Not only do the kids play in it ALL THE TIME but it stores strollers, toys and random push carts like a boss. Even though this is a toy room, I didn't want it to feel cluttered and messy all the time, so pieces like this & the black & white teepee totally double as storage when they're not being played in. Toys are inevitable, especially big ones as the kids get bigger, so finding a way to keep them contained keeps things functional.
These little "things" containers from The Land of Nod are all over the house, because they're just so functional. They hold toothbrushes & toothpaste in the bathroom, crayons & pencils in the playroom and even can be used for brushes & curling irons in mama's bathroom ;)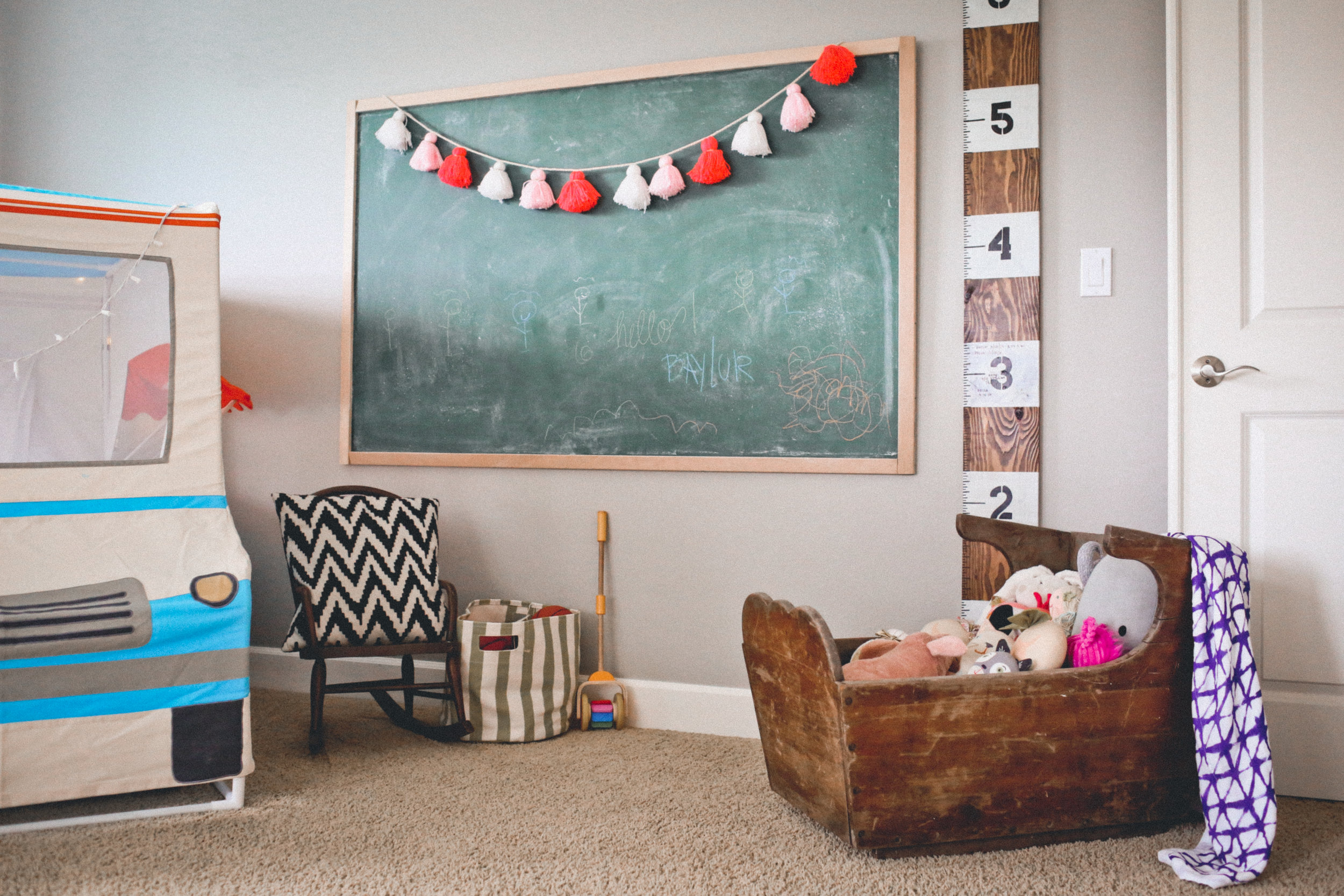 The chalkboard was a DIY that I plan to share soon with you guys - super simple to make out of some plywood, some chalk paint and 4 pieces of trim. The kids LOVE coloring on it and I love how big of an impact it makes on an otherwise bare & gigantic wall!
This large storage chest is one of my very favorite pieces and was something we had in our living room when we were first married. It's traveled throughout the house, but is best utilized in this room, because every single one of those drawers is stuffed with toys - puzzles, trucks, barbies, train tracks, legos, ect. It makes it super easy to keep things organized and the best part is that the kids can't open all the drawers themselves - which limits the dreaded toy graveyard in the middle of the room.
SOURCES: ICE CREAM TRUCK (ON SALE!) // B&W TEEPEE // THINGS CONTAINER // B&W FLOOR BIN // CAMPAIGN TOY CHEST // MEASURING STICK (diy by my sis!) // CHALKBOARD (diy by me!) // BOOK LEDGES // MAKE IT HAPPEN PILLOW (sold out!) // PAINTED PORPOISE BY BEHR